WHY DO FREEBIES WORK FOR YOU?
---
I'm here to help you.  So whether or not you're ready to take the plunge and book some coaching with me, this page contains some resources to give you a hand and get you moving in the right direction by lifting your confidence!
You know I've been where you are, and I wouldn't want anyone to suffer in silence, or be unable to afford any form of help.
Plus, I want to give you every opportunity to get to know me, figure out what I'm about and how I can help you.  And what better way to do that (especially if you're thinking of working with me) than to help you in the process to get the ball rolling for you as soon as possible?
Check out what I've got for you and help yourself to what you need.  And don't forget to pop back every now and again because I'll be adding more and more for you to use.
Kickstart your journey to loving yourself
---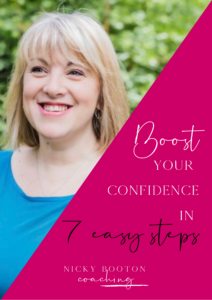 Had enough of feeling like you're not 'good enough'?
Want fast, powerful action steps to raise your self-esteem?
The 7 steps in this complimentary download are super easy to implement, straight away. You'll be following some of the same processes I walk my 1:1 clients through – and that I've worked through myself.
Ready to realise how incredible you are?
Subscribe to my Spotify Playlist
---
I've loved music all my life, and it's a big part of who I am; something I naturally gravitate to if I need a pick me up.  Or if I'm excited.  Or happy.  Or angry… you get the picture!  Whatever's going on in my life, music's always there.
If you're following me on social media (and if not, why not?!) you'll know that I post a new track each Monday morning – some meaningful, some inspiring, and some just for the fun of a kick ass track to start the week off on a high.  I've put these together into a playlist for you (okay, and for me!) to enjoy.
Dive in and have a listen.  Go ahead and subscribe to hear something new added each week.
Get in touch if you've heard something that needs to be added.