Self esteem and Body Image
---
I don't know about you, but I'm pretty bored with adverts for exercise and dieting recently.
Oh, don't get me wrong, I know it's no accident there are so many: I've heard lots of people complaining they've gained weight through lockdown this year, and I'm not completely naïve to how marketing works.
I get it, honestly – I've never been a super skinny girl – and might never be!  I've worked in a sedentary job my whole career, I love food, and the only exercise I actually enjoy involves dancing around like a loon to loud pumping music – and people tend to frown on that when you work in a busy environment like I do.
But I do find it sad that so much advertising gives the impression we all have to look a certain way – to be a certain size – to feel happy.
I totally disagree!
I meet so many people of different body shapes, body size – some happy with how they look and feel, others less so.  From observation as well as personal experience, I'm here to tell you that happiness and self confidence very much does NOT just depend on your size!
But comments from others and external pressures can really knock our confidence when it comes to body image.
To the point where it can be hard to look in the mirror, or to have pictures taken of you, or appear online anywhere – not to mention in person networking or thinking about dating.
So rather than write some kind of "how to" targeted at changing your size in some way to feel better, I asked some friends of mine to give some insight from their perspective of working with people in two different areas where body image is a hot topic.
Jesse Lawrence is THE Wedding Photographer for people who hate having their photo taken
One size does not fit all - and nor should it!
---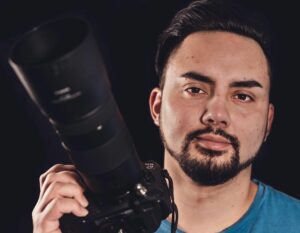 Jesse Lawrence of J Lawrence Photography is a wedding photographer, and he feels strongly about the subject of body image in the UK and how people see themselves, citing it as one of the top reasons people hate having their photo taken because of its contribution to low self-confidence.
He says: "The main issue is that the icons given to women from a young age, from play to the media, are actresses, models and dolls. Three groups of people who have a very specific look – especially body shape. Furthermore, there is normally an unnatural amount of photoshop involved."
But his message to women is powerful.
"Working in the wedding industry, the number one thing to note is variety.  Anyone who has gotten married, or even followed brides to be on Instagram, will have seen the sheer number of choices that need to be made.  This is because we are all different, and that is a wonderful thing.  One size does not fit all, and nor should it!  The difficulty is understanding who you are, and finding the best version of that for yourself."
I asked if he had some top tips and advice from all his experiences with brides (and grooms) for anyone struggling with negative body image to help increase their confidence.  Here's what he says:
1) Find your icons – if you are looking at Elle and Vogue you are not going to find much other than size 6 fashion models. But there are many stunning, iconic women of all body shapes. Those should be your role models.
2) Be the best version of you – don't try to be something you are not. Learn who and what you are. Improvement doesn't mean changing the essence of you, just be the best version of you.
3) Do it for yourself – the people around you love you as you are. If you are going to change anything, if you are striving for something else, make sure that it is just for you.
4) Get some good pictures – despite whatever anyone tells you, sometimes the best way to see how beautiful you are is to be shown. Get some photos done, even if it is some simple portraits, but get them done by someone really good. No amount of selfies will match the quality of images of a good photographer.
You can find out more about Jesse here:
Tracy Jayne Hooper is the go to expert for all your business style needs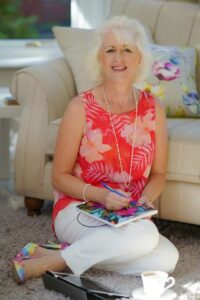 Tracy Jayne Hooper is a personal stylist who's faced her own challenges when it comes to body confidence.  She told me "I started going through some hormonal changes that made me gain weight.  I have been anorexic in the past and so this did not sit well with me, and actually caused me to feel quite depressed as every time I caught sight of myself in a mirror, I was telling myself how ugly and fat I was.  You don't have to talk to yourself like that for long, before you start to take a nose dive!"
This is a lady who knows exactly how it feels when changes in circumstances impact our wellbeing (both physically and emotionally), resulting in changes in weight and body shape.  These changes can leave us feeling lost, struggling to feel good, and less than happy about our new body shape.  She goes on to say: "A lot of people think that Personal Style is all about the way you look.  And of course, that is true.  But it's about a whole lot more than that, because how we feel about the way we look has a big influence on how we look, and vice versa, how we look can have a big impact on how we feel."
Tracy's message is equally inspiring.
"I strongly believe that it is perfectly possible to find yourself again, so you can feel like you, and feel like you look good every time you have to leave the house, regardless of the things that life has thrown at you.  And it's not your size and shape that make the difference, as you can look good no matter your size or shape."
Tracy had some excellent advice that resonates strongly with me:
The key thing here in feeling good about yourself, is knowing your new body shape, and how to dress to flatter your figure.  Once you know these two things, you will once again be able to go out feeling and looking good, and this will help to raise your self-esteem and confidence.
Tracy has kindly offered a free guide and series of blog posts to help you find out your body shape, and how to dress to flatter your specific shape.  You can access the free guide here:
You can find out more about Tracy here: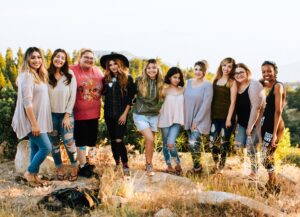 The last word
It doesn't matter what other people think of you or how you look.
It matters what YOU think of you.  It matters how you FEEL!
What you think of you is THE most important thing and affects how you feel, your perception of the world, everything.  Whether you decide you want to diet (for YOU), to get fitter (for YOU), to gain weight (for YOU), to build muscle (for YOU),  do it because YOU want to – never because you think you "should" or for someone else.
Whether you're slim or curvy or anywhere in between, forget the numbers on the scales, or the number on the size label, find and embrace the healthy happy individual YOU who knows you're beautiful, inside and out!